[Discontinued Product]15ppm BILGE ALARM FOCAS-1500c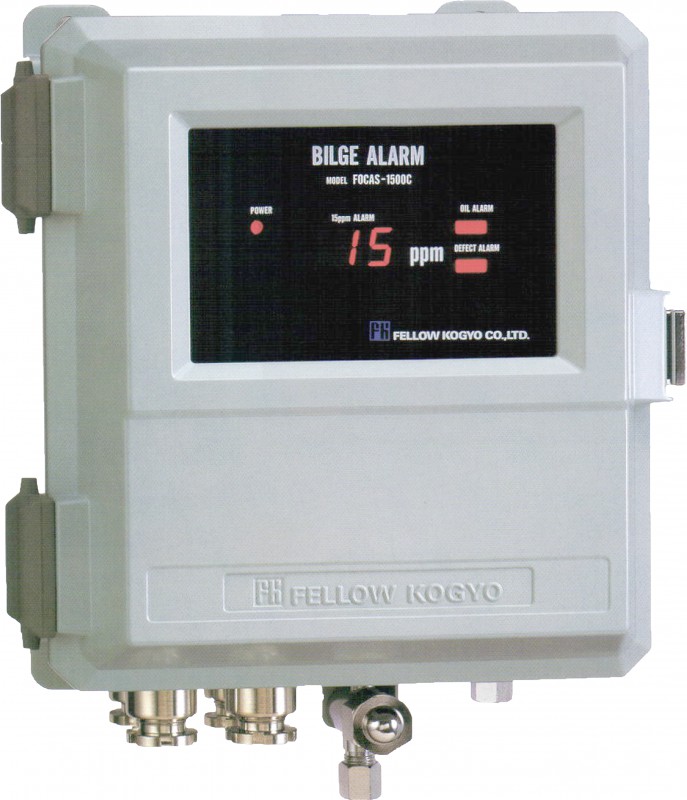 Other documents
Product Description
● Description    
FOCAS-1500c Bilge Alarm serves to continuously measure the concentration of oil in the bilge and other waste water produced on a ship.
FOCAS-1500c meets the requirement of IMO Resolution MEPC60 (33) and has type-approval from JG, and DOT.

● Features
・It measures only the oil concentration, free from affection of detergent and suspended solid matter in the water.
・The production of air bubbles is inhibited to permit stabilized measurement. 
・dual alarm system.   An oil content alarm is given when the oil concentration exceeds 15ppm and a set alarm is given in the event of input (sample water) or instrument failure.
・"CHECK" button giving simple operation test.
・Installation and connection are carried out with ease because it is samll and right.
Standard Specifications
| | |
| --- | --- |
| Measuring Method |  Turbidity by ultrasonic waves |
|  Measuring Cycle |  about 17 sec.  |
|  Measuring Range |  0~30ppm |
|  Measuring Accuracy |  Within ±5ppm (at 15ppm) |
|  Measuring Pressure |   0.2~3.0bar (about 0.02~0.3MPa) |
|  Measuring Water Temperature |  2~45℃ |
|  Alarm Setting |  15ppm |
|  Ambient Temperature |  0~55℃ |
|  Allowable Humidity |  max. 90% |
|  Variation Test  |  ±0.7G |
|  Angle of Inclination |  22.5° from horizontal plane |
|  Sample Water Flow Rate |  0.0002~0.003m3/min. (0.2~3 lit/min.) |
|  Power Supply Voltage |  AC100, 110, 115, 220V ・ 50/60Hz |
|  Power Consumption |  40W average (150VA max.) |
|  Weight |  Approx. 7.5Kg |
|  Outside Dimension |  255W×290H×158D 〔m/m〕 |