[Discontinued Product]Electrostatic Capacity Type Level Meter LIC-120 (Thunder resistance-separate type)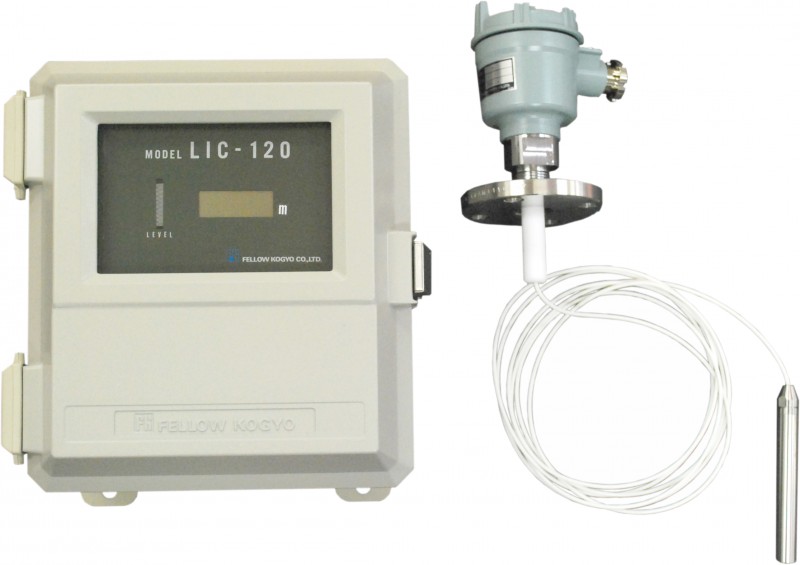 Product Description
● Description
A electrostatic capacity / continuous direction type level meter is designed to meet the demand of spots and various applications .   This meter checks the change of liquid level .
It is used in wide industrial fields such as observation wells that supervise and record the water level of hundreds m of underground,  water supply ponds,  river waterways and, a medical fluid tanks with high importance .

● Features
・It has high thunder resistance 
・It has long service life because detecting section has no mechanical moving part .
・It has high reliance, and maintenance and inspection is carried out with ease .
・Adjustment can be carried out easily by simple dial operation .
・m and % can be selectable, and direction can be confirmed from outside .
Standard Specifications
Output Signal
 4~20mA (standard) Isolator incorporated
 1~5V (option) arrester incorporated 
 Accuracy
 Linearity : Less than ±0.3% of full scale
 Less than 0.1% of output change per 10% of power supply varying 
 Outside Line Resistance
 Less than 700Ω
 Power Supply
 AC100/110 200/220V 50/60Hz DC-24V (option)
 Power Consumption
 5VA
 Ambient Temperature
 -20~+55℃
 Ambient Humidity 
 10~95%
 Weight
 4.5Kg
 Painting Color
 5Y 7/1
 Water-Proof Grade
 IP-54 (when having cable gland)