Ultrasonic Level Meter LIU-330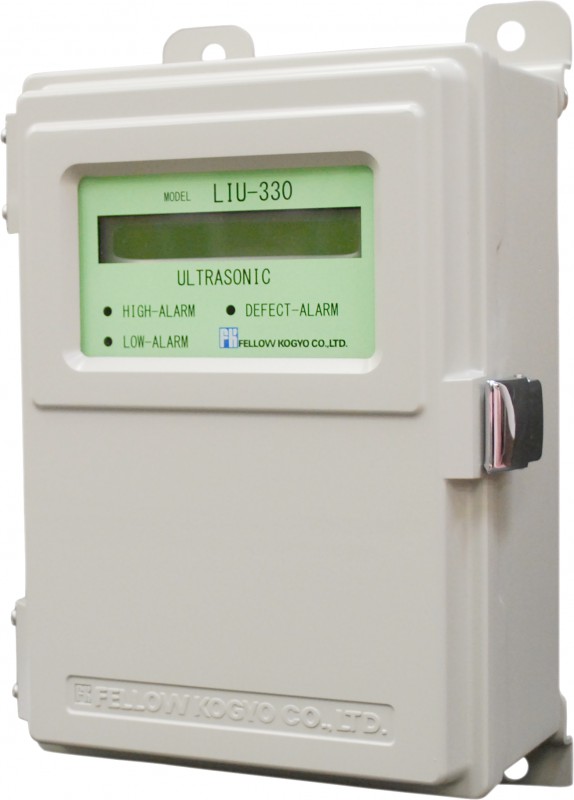 Product Description
・It can measure a wide range of measured matters such as fines (cement, collected dust, etc.), chemicals, ores, water supply and drainage, and snow.    
・Less polluted sensor because of non-contact with measured matters, and not affected by chemical changes due to vapor, gas, or chemicals because of its corrosion resisting structure.
・Using high water-proof IP-66 for the converter.
・It equips noise eliminator, and is designed to be high resistance to noise, surge, and thyristor noise. This permits continuously output.
・A self-diagnostic function using upper and lower contacts and many sensors is mounted.
・The output is an analog output of DC4 to 20 mA . The output circuit is isolated. Regarding the display, any desired unit such as %, m, and mm can be set as a value unit. Analog display can also be promoted by bar at the same time. This facilities checks in the work site.
・Loop check simplified by using the test mode
・Easy ZERO SPAN adjustment.
・With the CPU and memory mounted, any adjustment can be made by simple button operation according to the work site.
・The converter can be installed on the wall or installed on a stanchion by using 50a pipe. They can be adapted to any work site by simple installation work and require only simple maintenance.
・Higher-safety explosion-proof model has been improved to measure chemicals, combustible materials, etc.
Standard Specifications
● Standard Specifications Transmitter LIU-330
 Models 
 330-V, 330-2, 330-3 and 330-4
 Applicable power supply 
 100-240VAC±10%, 50/60Hz, 24VDC(Optional)
 Power consumption
 Max. 26VA
 Output signal
 4-20mADC (output range 2.0mA-22mA), with  built-in isolator
 Total precision
 ±0.25% (full scale)*1 or ±5mm, whichever larger
 Output resolution
 0.1% (full scale)
 Display resolution
 0.1mm/330-V, 1mm/330-2, 10mm/330-3 and 10mm/330-4
 Maximum count of measurements
 10 measurements per second
 Alarm contact
 Upper limit alarm: 1c(NO, COM, NC); capacity: max. 250VAC, 2A
 Lower limit alarm: 1c(NO, COM, NC); capacity: max. 250VAC, 2A
 Defect alarm
 Contact: 1a(NO, COM); Capacity: max. 250VAC, 2A
 Ambient temperature
 -20 to 60℃ (no condensation)
 Ambient humidity
 10 to 95%
 Ground terminal
 Class D (grounding resistance of 100Ω or less)
 Sensor cable
 Dedicated coaxial cable without thermal sensor: RG-63U
 Dedicated coaxial cable with  thermal sensor: RG-62BU-2
 Case structure
 IP(International Protection) Rating: IP66(when equipped with  a cable ground)
 Material: ADC-12; paint color: 5Y7/1
 Dimensions and weight
 182W x 283H x 120D(mm); approx. 2.7kg
 Display unit
 24-character, 2-line character type; %, m, bar display
 when equipped with  an operations function or linearizer: ton/h or m3, etc.
*1 Accuracy at the maximum measurement span under our standard conditions
● Standard Specifications Sensor (main examples)
Sensor type 
US-22T, US-22F
US-30T, US-30F
US-40T, US-40F
 Maximum measuring length*2 
10m (varies depending on specific conditions)
40m (varies depending on specific conditions)
50m (varies depending on specific conditions)
 Non-sensing distance
30cm (varies depending on specific conditions)
60cm (varies depending on specific conditions)
100cm (varies depending on specific conditions)
 Standard installation
US-22T: 50A pipe suspension
US-30T: 50A pipe suspension
US-40T: 50A pipe suspension
US-22F: JIS 5K 65A flange or equivalent
US-30F: JIS 5K 150A flange or equivalent
US-40F: JIS 5K 200A flange or equivalent
 Ambient temperature
-20 to +80℃ for the one made of SUS; -20 to +65℃ for the one made of PVC
 Ambient humidity
10-95%
 Case structure
IP(International Protection) Rating: IP67
*2 "Maximum measurement length"corresponds to full height stroke