Electrostatic Capacity Type Level Switch LIC-S45(separated with an amplifier type)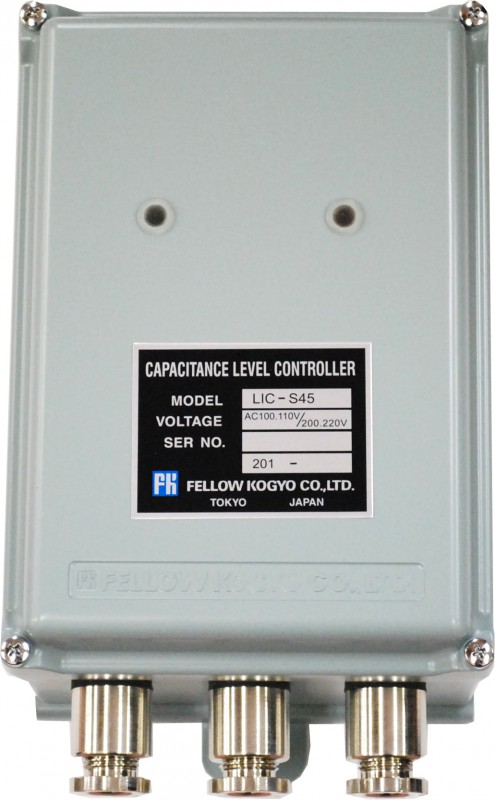 Catalog download
Product Description
● Description    
The level Switch, model LIC-S45 is a rugged model of mass production designed and manufactured by piling up many experiments, data, and results on the basis of actual situation of a variety of automatic control plants and site requirements.
● Features
・Since there is no mechanical moving part, it is long life, and the maintenance and inspection can be carried out with ease.
・By the simple operation, The optimum sensitivity adjustment can be performed.  
・To prevent bad influence from the circumstance environment, it has water-proof sealed construction.
・The electrostatic elimination circuit of our peculiarity is incorporated.   The electronic circuit is protected from influence by the electrification of measuring materials.
・It is suppressed to the minimum limit that influences by adhesion of dust, water, drops, etc. to the main section of electrode. The stable operation is maintained for a long time.
・It is provided with mechanical strength.
・It can be also used for the high temperature and high pressure measuring materials. 
Reference draawing
・It can also fully correspond to the strength and weakness of hydrogen ion concentration and vibrations.
・The acid-proof and alkali-proof material is used in the wetting part, which is excellent in the corrosion resistance.
・By the delay circuit (option), the malfunction by quick variation of physical position like waves, sprays, and etc. is prevented, and it is properly attended. 
・For electronic timer, various kinds like 1 to 5 sec, 1 to 4 min (variable by knob) , and etc are available.
Standard Specifications
| | |
| --- | --- |
|  Sensitivity |  0.5pF 400pF at fixation |
|  Overall Drift |  1.0pF |
|  Ambient Temperature |  -10~+55℃ |
|  Power Consumption |  10VA |
|  Pilot Lamp |  AC6.3V×2 |
|  Contact Capacity |  AC250V 2A1C contact |
|  Power Supply |  AC100/110 200/220V 50/60Hz |
|  Weight |  2.2Kg |
|  Painting Color |  7.5BG 6/1.5 |
|  Delay Operation |  0.5~2sec. |